Home
>>
Events & Exhibitions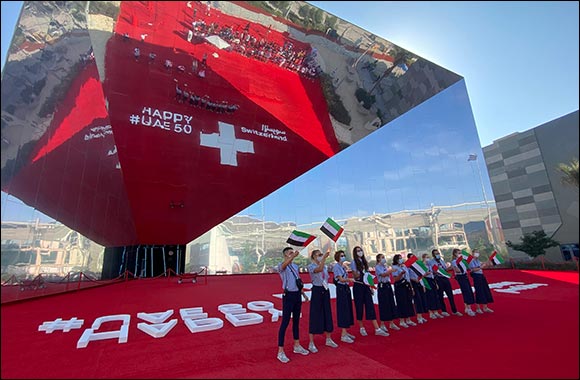 The Swiss Pavilion and the Embassy of Switzerland in the UAE celebrated UAE 50th National Day
December 05, 2021: The Swiss Pavilion brings to life the experience of visiting Switzerland without going there. In collaboration with Swissnex, is connecting the world in education, research, and innovation through 10 thematic weeks which brings together some of the brightest minds in their respective fields. The Swiss Pavilion is also ready to take this opportunity to strengthen their relationship with the UAE government for great cooperation for the future.
On the occasion of the UAE National Day, Massimo Baggi, Ambassador of Switzerland to the UAE and Bahrain said " In the course of last 50 years, since the numerous visits to the Switzerland of the late Sheikh Zayed, the United Arab Emirates have not only formed their destiny, but also created a safe heaven for people of all backgrounds to thrive together. On this anniversary, I wholeheartedly congratulate the UAE for those many accomplishments and look forward to expanding further our relationship; in the interest of the people of the UAE and Switzerland."
Swiss Pavilion:
Switzerland was the first country to confirm its participation in the Expo 2020 Dubai. The Swiss Pavilion offers a unique encounter with Switzerland. It highlights Switzerland as a country of scenic beauty and a leading hub of technology and innovation by presenting the excellence of Swiss universities, start-ups and companies as well as creating joint events with local partners.
The Swiss Pavilion relies on a public-private partnership model. It promotes Switzerland's economic capacity and attractiveness to the UAE – the most important trading partner in the Middle East. It turns the spotlight on its high-quality products and services together with its partners Schindler, Rolex SA, Switzerland Tourism, Roche, Clariant, Novartis, Nestlé, and KGS Diamond Group Ltd and suppliers. Presence Switzerland oversees the Swiss Pavilion. It is the unit of the Federal Department of Foreign Affairs, which is responsible for Switzerland's image abroad and Switzerland's official presence in international events, such as World Expos.
The selected project 'Reflections' was designed by the Swiss project team OOS AG (architecture), Bellprat Partner AG (scenography) and Lorenz Eugster Landscaping GmbH (landscaping) and built by General contractor Expomobilia.
Home
>>
Events & Exhibitions Section