Home
>>
Entertainment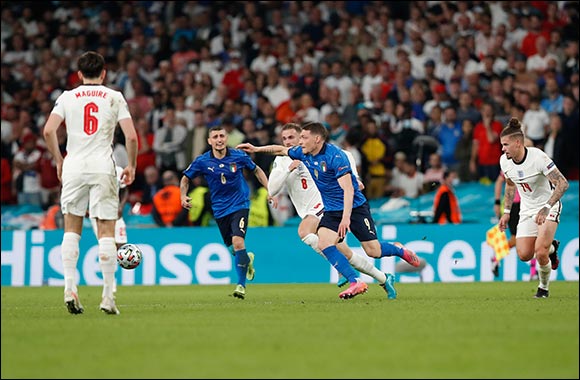 Sports Partnerships: A Tool for Brand Success
~ Through leveraging sports partnerships, Hisense demonstrates a growth rate of 116% in H1 2021 in the Middle East region ~
August 01, 2021: Sport naturally has an emotional power and an unrivalled influence on audiences, globally, which is enhanced by the numerous brands that have made sports partnerships the heart of their marketing strategy to drive growth. The opportunities for brands to push sales, deliver a powerful message, change perceptions, and create awareness about their products are countless.

The global sports sponsorship market, in terms of revenue, was worth of USD 57.00 Billion in 2020 and is expected to reach USD 89.60 Billion in 2027, growing at a CAGR of 6.72% from 2021 to 2027.

As the first major tournament after the pandemic, the UEFA EURO 2020 has attracted great excitement globally. Official sponsor of UEFA EURO 2020™, Hisense, a multinational consumer electronic and white goods manufacturer, showcase the potential benefits of sports sponsorship having recorded, in the first half of 2021, remarkable revenue growth of 116% over H1 2020 in the Middle East region, despite the unforeseen challenges caused by the pandemic.
"Sports marketing activities like the UEFA Euro 2020™ has been the key driver for this growth, improving top-tier product recognition like Laser TV, ULED TVs, Refrigerators, Washing Machines as well as adding to the elevation of brand equity," said Mr Jason Ou, Managing Director of Hisense Middle East and North Africa.

The sales growth of H1 2021 was witnessed across all major categories like TV that grew by 94%, Home Appliances (HA) segment recorded a significant growth of 134% and Air-conditioning (AC) category grew by 120% considerably.

Hisense has always been a major player in global sports sponsorship and is quickly rising as a leading brand in the consumer electronic segment, thanks to partnerships with leading platforms such as the UEFA Euro 2016, the Australian Open, NASCAR Xfinity Series, Red Bull Racing, Joe Gibbs Racing, and Germany's FC Schalke 04. In 2017, Hisense announced its status as an official sponsor of the 2018 FIFA World Cup™, becoming the first-ever Chinese consumer electronics brand to sponsor the tournament. Continuing its sports momentum, the brand recently announced its partnership with 2022 FIFA World Cup™.

Mr Jason Ou, further added: "Partnering with world's prime tournaments most certainly boosted our growth not just internationally but also in the Middle East region. This incredible growth stands as proof of the unbelievable opportunities derived through these key sports associations."
A significant advantage of a sports partnership is the vast amount of brand visibility through various online and offline associations. According to UEFA's released figures, the tournament was watched by 1.8-2 billion people through 137 broadcasters in 229 countries and regions, with 760,000 live viewers and 420,000 fans participating in the host cities' fan squares.

Due to travel restrictions, there was an increase in the number of spectators that demanded the convenience of game viewing from the comforts of their home. Tapping into the excitement fans have for the game across the globe as well as in the Middle East region, Hisense localized its Global Euro concept 'Your Home Your Stadium' to 'it's possible' that underlines the fact that the consumers can truly enjoy a football match even at home with the same enthusiasm and ambience just like the stadium.

To support the football brand activations and to engage fans, the brand also ran a series of retail activations at UAE stores with 'Harley', the official brand mascot.

Continuous dedication to sports marketing successfully boosts enterprise presence but also leads to better sales. These sports marketing affiliations have been crucial in supporting the increase of brand equity which has grown over 80%, in the last three years, as per the research conducted by IPSOS, a global leader in market research.

With an aggressive market penetration strategy, state-of-the-art product line-up and backed by strong global and regional marketing initiatives, brands will be poised to occupy a strong leadership position within their industry.
Home
>>
Entertainment Section