Home
>>
Banking & Investments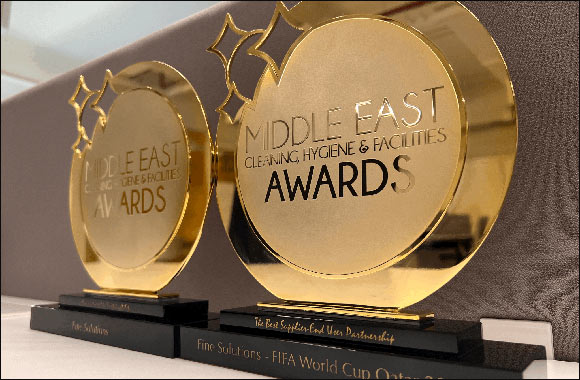 Fine Hygienic Holding Wins Two Prestigious Awards at MECHF Awards 2023 in Dubai
• Leading Wellness Group Recognized with Commitment to Sustainability Award and Best Supplier-End-User Award
Dubai, UAE 29 May, 2023: Fine Hygienic Holding (FHH), one of the world's leading wellness groups and manufacturers of hygienic paper products and long-lasting germ protection solutions, has been honoured with two prestigious awards at the prestigious Middle East Cleaning, Hygiene and Facilities (MECHF) Awards 2023, which was held recently in Dubai.
FHH was recognized for its commitment to sustainability and environmental protection with the Commitment to Sustainability Award and was also awarded The Best Supplier-End-user Award for having been the Official Hygiene Supporter of FIFA World Cup Qatar 2022. FHH's role at the World Cup ensured heightened safety and community protection throughout the month-long event, which attracted a total of 3.4 million spectators.
Commenting on this occasion, FHH's Chief Commercial Officer Nedal Zatari said: 'We are honoured to have won both the Commitment to Sustainability Award and The Best Supplier-End-user (FIFA World Cup Qatar 2022) Award at the MECHF Awards 2023. These awards are a testament to our ongoing commitment to creating a more sustainable future and our dedication to excellence in all that we do, particularly in the Middle East and North Africa region."
'We would like to extend our heartfelt thanks to the MECHF for recognizing our efforts, and to our incredible team at FHH – led by Mohammad Zoaiter - for their hard work and dedication to sustainability and excellence, as well as our valued customers and stakeholders for their ongoing support. We will continue to work tirelessly to promote sustainable living and provide hygienic and wellness products that look after the millions around the world,' added Zatari.
As an Official Regional Supporter of the FIFA World Cup, FHH and through its B2B arm Fine Solutions, played a crucial role in creating a protected environment during the world's biggest sporting event, which was held for the first time in the region.
'Our partnership with FIFA was an incredible opportunity to contribute to the world's most significant sporting event while promoting well-being and sustainability. We are thrilled to have been recognized for our efforts with the Best Supplier-End User Award, and we remain committed to continuing to work with our partners to make a positive impact on the environment and communities we serve,' said Ahmed Soliman, Fine Solutions' Head of Marketing and Strategic Partnerships.
"At FHH, sustainability is deeply embedded in every aspect of our operations. From product and solutions design and innovative manufacturing processes to our responsible supply chain management and active community engagement efforts, we strive to make a positive impact on the environment. Receiving the MECHF Awards 2023 Commitment to Sustainability award serves as a testament to our ongoing commitment to promote sustainable living and environmental protection. We are proud to be acknowledged for our efforts and remain committed in our mission to paving the way towards a more sustainable future. We would like to thank all our customers and partners for their support and involvement in our sustainability initiatives' said Seifeddine Beldi, Fine Solutions' Country Manager, UAE & Lower Gulf.
Home
>>
Banking & Investments Section