Home
>>
Lifestyle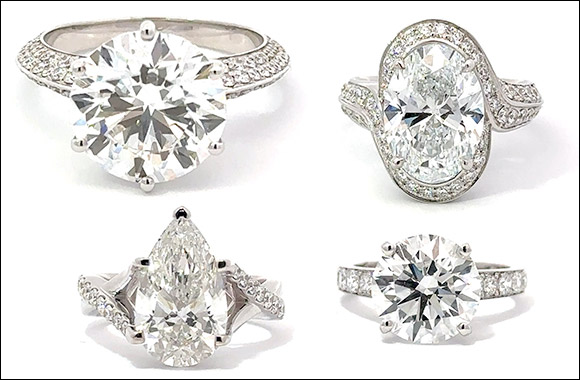 See Seven Wonders of the Jewellery World in Sharjah
Homegrown Lab Grown Diamond Brand Unveils Exclusive Ring Collection at Watch & Jewellery ME Show
Sharjah, United Arab Emirates: Evermore, the region's first and only vertically integrated lab grown diamond company, unveiled its Seven Wonders at the 51st edition of the Watch & Jewellery Middle East Show today.
The flagship event of Expo Centre Sharjah, this global gathering of master jewellers, ingenious designers, leading suppliers, manufacturers, and wholesalers features jaw-dropping jewellery and luxury watch collections, exciting competitions, informative workshops, and seminars.
As a proud homegrown brand, it is only fitting that Evermore has chosen this august platform to launch a first-of-its-kind exclusive collection of 7 stunning and bespoke diamond rings.
Each is between 4- 6 carats with VVS clarity and a pristine purity that classifies them as type 2, purer than 98% of the world's diamond supply- like the rarest jewels in the world such as the Kohinoor and the Millennium Star.
Engineered from carbon, mimicking the process of diamond creation that takes place under the earth, the diamonds used to create these one-of-a-kind rings are chemically, physically, and optically identical to natural diamonds. With the same raw material, pure carbon, heat, and pressure in process, Evermore diamonds are grown in an ultra-high-tech state of the art laboratory, which is entirely powered by green solar.
This makes them better for the environment as human labour was not exploited in their making. They also enjoy a low carbon footprint making them the right choice for like-minded ethical consumers who make sustainability a priority.
"Better sparkle and bigger size are the promise as you're now getting a 5-carat diamond for the price of a 2-carat mined diamond. The value for money and sustainability propositions are what set Evermore apart, and we couldn't be more excited to be unveiling this collection in the company of such discerning connoisseurs of fine jewellery and watches," said Rohan Siroya, CEO, Evermore by Siroya ALTR.
"Under the banner of Future Fantastic this event is the longest running jewellery show of its kind. It is where trends are forecast but also where brands are born making it a perfect platform for a new brand like Evermore who are at the forefront of the movement. From being light on the wallet to being a guilt-free, ethical stone, lab diamonds are an investment every jewelry lover should embrace, and we are glad to be guiding them in that direction."
"Each ring is one of a kind like a rarified work of art created at the highest level of individualization, to exacting standards of purity and beauty making them a perfect engagement ring option too," he added.
The Seven Wonders collection was unveiled today at the Jewelorium booth #5-2520
(Hall 5) at the 51st Watch & Jewellery Show.
Home
>>
Lifestyle Section