Home
>>
Government, Legal & Humanity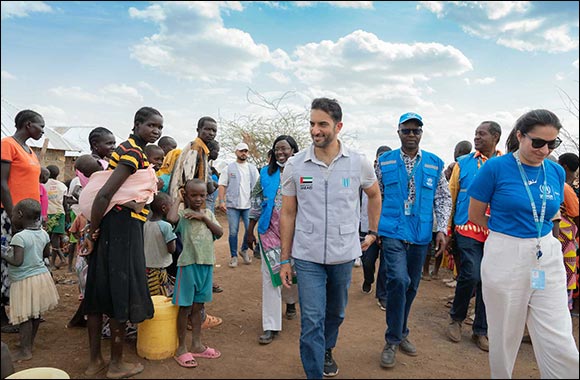 Sultan bin Ahmed Al Qasimi Inaugurates and Visits on TBHF's Humanitarian Projects in Kenya
TBHF leads an official visit to Kenya with a high-level delegation of sponsors and partners to assess the humanitarian impact of developmental projects in Kakuma, Kalobeyei Settlement, and Nanyuki town.
HH Sheikh Sultan bin Ahmed Al Qasimi, Sharjah Deputy Ruler and TBHF Humanitarian envoy inaugurates Phase 1 of TBHF-UNHCR-Arada Shelter and WASH project, which is working to bring 407 permanent shelters & latrines to 240 households and clean water to 55,035 individuals in Kalobeyei settlement and surrounding host community.
Winner of TBHF's SIARA Award in 2021 - Kenya-based nonprofit RefuShe, has provided literacy and skills training to 614 refugee girls from Somalia, South Sudan, DRC and Ethiopia.
NAMA-TBHF livelihood project of US$ 77,720 has led to the creation of a training centre for female spinners and weavers in Nanyuki town, and has already upskilled its first cohort of 300 trainees.
TBHF's US$ 266,250-funded Kakuma Clinic, which set out to offer quality healthcare services and immunizations to 22,000 refugees and host community, exceeded expectations with 44,272 beneficiaries.
During a recent official field visit organized by The Big Heart Foundation to the Republic of Kenya, a delegation from Sharjah led by HH Sheikh Sultan bin Ahmed bin Sultan Al Qasimi, Deputy Ruler of Sharjah and the Humanitarian Envoy of TBHF, inaugurated the 'Home for a Home' project in Kenya's Kalobeyei Settlement adjacent to one of Kenya's Kakuma camp. The Shelter & WASH project, a collaboration between Arada Developments, TBHF, and the United Nations High Commissioner for Refugees (UNHCR), aims to provide safe housing, sanitation and clean water supply to over 55,000 individuals in the settlement and surrounding host community.
During the inauguration, the Deputy Ruler of Sharjah placed the final stone in the last shelter to signal the completion of the first phase of the 'Home for a Home' project that comprises 176 permanent shelters, each one with a latrine and sanitation facilities. The TBHF Humanitarian Envoy also inspected the progress made by the project's second cohort, which entails the construction of 231 shelters. In addition, HH Sheikh Sultan bin Ahmed also visited the medical clinic in the Kakuma camp, which was established by UNHCR and funded by TBHF, to receive on-ground updates on the work done at the clinic to fill the gap in quality healthcare provision to refugees, women and children.
During the visit, HH emphasized the importance of humanitarian projects that have a sustainable impact on refugees and displaced persons in the region and around the world.
Residence and water sustainable infrastructure
Announced in March 2022, the project's shelter interventions will accommodate 240 households with a total of 2,035 individuals from South Sudan, Ethiopia, Burundi, Democratic Republic of Congo (DRC), Rwanda, and Uganda. The project follows the humanitarian principle of building one permanent shelter for a refugee family in Kenya's Kalobeyei settlement for every home sold in Arada's Masaar master community in Sharjah.
The project also features the development of a sustainable water supply system that supports more than 43,000 refugees and 10,000 host community members. The system provides 20 litres of water to each individual everyday, and 100,000 litres to both refugees and host communities living in the surrounding area, to ensure that hygiene and healthy living standards are maintained.
HH Sheikh Sultan bin Ahmed Al Qasimi and the visiting delegates including H.E Hassan Yacoub Al Mansoori, Director of the Office of HH Sheikh Sultan bin Ahmed Al Qasimi; H.E Mariam Al Hammadi, TBHF Director; H.E Rashid Abdullah Al Obeid, Director of Sharjah Broadcasting Authority; H.E Adel Abdulla Mohamed, Board Member and Group CEO Air Arabia; H.E Ali Mohammed Al Khayyal, Vice President of the Board of Trustees of Sharjah Charity House; H.E Saeed Ghanim Al Suwaidi, CEO Al Ghanem Investments and Developments; H.E Abdelghani Hassan Mohamed, IFFCO Group Corporate Affairs and Business Development Director, also followed up on the progress and humanitarian impact of other TBHF projects in Kenya by holding a meeting with the Kakuma camp management, gaining insights into the welfare procedures and development policies implemented there. They met with UNHCR representatives as well to learn more about the current and emerging needs of refugees.
Sultan bin Ahmed Al Qasimi: Sharjah places refugees and displaced persons at the forefront of its humanitarian priorities
HH Sheikh Sultan bin Ahmed Al Qasimi stressed that TBHF's humanitarian efforts are firmly rooted in the cultural values of the UAE and of Sharjah, who have always been committed to supporting refugees and displaced persons by extending a helping hand to them. HH highlighted that in line with the vision of His Highness Sheikh Dr. Sultan bin Mohammed AlQasimi, Member of the Supreme Council and Ruler of Sharjah, and the directives and support of Her Highness Sheikha Jawaher bint Mohammed Al Qasimi, wife of His Highness the Ruler of Sharjah, Chairperson of The Big Heart Foundation, and UNHCR Eminent Advocate for Refugee Children, Sharjah brought disadvantaged communities closer to every member of Emirati society, and motivated us all to step forward and help those facing challenges.
"Sharjah places refugees and displaced persons at the forefront of its humanitarian priorities. Our goal is not only to achieve short-term humanitarian results via emergency aid disbursements, but also help build a hope-filled future for marginalized communities by providing them with necessary tools to overcome the challenges they face and by creating new opportunities to build a stable and secure life for themselves. With every project we undertake, we aim to transform humanitarian work into collective duties performed by the community - both individuals and entities - in the region and beyond out of sincere human concern", said HH the Deputy Ruler of Sharjah.
"For decades, refugees from different countries arrive in camps where they end up spending years. This makes permanent housing for these displaced peoples an equally necessary requirement, which must be met alongside other emergency or short-term needs. TBHF, therefore, has over the years undertaken development projects in health, education, housing and vocational training to address these sustainability needs. And here, we witness first-hand the positive impact of these projects in raising the living standard and overall quality of life of each project's beneficiaries as they continue being surrounded by the uncertainties of displacement. It has been truly inspiring to hear the success stories of refugees and IDPs who have improved their present lives and hope for a better future after taking up the opportunities in education and employment created by TBHF's initiatives," Deputy Ruler of Sharjah added.
Healthcare projects… 22,000 beneficiaries
The delegates visited the medical clinic which was launched by the UNHCR and received TBHF's US$ 266,250 fund for a year to provide basic healthcare services to an estimated number of 22,000 refugees and asylum seekers in the catchment area in Kakuma 1 camp , Turkana County, Kenya.
The delegates followed up on the clinic's facilities and medical team. TBHF's funding covered the cost of administering mandatory immunisations including measles, polio, antenatal tetanus to children under 5, including new arrivals in the camp through Nadapal, in addition to catering to the clinic running costs including provision of equipment, procurement of supplies, and funding the various community awareness and health education activities, boosting the clinic's capacity to offer children and their parents access to primary and secondary health services, and 20 community health workers.
Vocational training projects empower 300 Kenyan women economically
The delegates also visited the Women Empowerment centre, launched by TBHF and NAMA Women Advancement Establishment (NAMA) in collaboration with the Nanyuki Spinners and Weavers, to empower 300 Kenyan women economically and vocationally through spinning, knitting and weaving skill development programmes. The project, which will be complete and inaugurated officially in Q2, 2023, includes building a centre for the programme and covering all expenses of materials and meals provided to women during the training period, in addition to supporting the education of their orphan children by providing their tuition fees. HH Sheikh Sultan bin Ahmed Al Qasimi met a host of the participants and gained insights into the skills they acquired from the training programmes, and followed up on the project's operational phases and products.
614 girls and women supported by RefuShe, winner of Sharjah International Refugee Advocacy and Support Award
The visit included a meeting with the management of RefuShe, winner of the 2021 edition of the Sharjah International Refugee Advocacy and Support Award (SIARA). The Kenyan non-profit organisation was honoured by the prestigious international award in recognition of its unique and inspiring interdisciplinary model to empower female victims of conflict including refugee children, girls and women by providing them safety as well as literacy, numeracy and vocational skills through specialized programmes.
HH Sheikh Sultan bin Ahmed was apprised of RefuShe's achievements since the non-profit won SIARA. A total of 614 girls and women were benefited, including 365 girls who were offered literacy, numeracy and other academic skills. Additionally, vocational and life skill training workshops were delivered to 184 girls and 22 artisans. SIARA's cash prize also enabled 82 RefuShe beneficiaries to receive professional social and psychological support.
Home
>>
Government, Legal & Humanity Section