Home
>>
Banking & Investments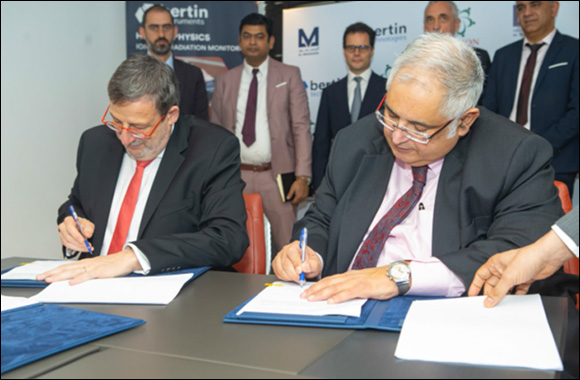 Bertin Technologies and Al Masaood Group Announce Strategic Partnership to support UAE Nuclear Industry
March 02, 2023: Bertin Technologies, a French industrial group dedicated to scientific instrumentation for critical applications, signed a strategic partnership with Al Masaood Group Industrial, highly diversified business enterprise that offers a wide range of industrial solutions in the UAE. The partnership will bring together Bertin Technologies' expertise in the nuclear field with Al Masaood's know-how and extensive network in the Middle East to offer high-quality products and services to customers in the nuclear industry.
The partnership will focus on the supply of equipment and critical systems for the radiological protection measurement and control of radiation protection for nuclear power plants. Bertin Technologies offers a comprehensive range of state-of-the-art products and systems dedicated to radiation protection and ionizing radiation monitoring.
Following guidelines from the Federal Authority for Nuclear Regulation (FANR), Bertin Technologies and Al Masaood Group Industrial will bring together expertise, technologies, and turn-key solutions for the benefit of the UAE.
This collaboration was facilitated during last year's fifth E-FUSION, organized by ENEC in partnership with the French Nuclear Cluster (CSFN), GIFEN, and Business France, the national agency supporting the international development of the French economy. Launched in 2019, E-FUSION is a cooperation agreement between France and the United Arab Emirates aiming at supporting cooperation for nuclear activities. E-FUSION helps bring together the UAE and French nuclear sectors to further develop and strengthen the development of a local supply chain.

'We are proud to sign this alliance with Al Masaood Group, one of the leading companies in the Middle East, to bring the best radiation detection technologies in order to improve nuclear safety and security,' said Mr. Bruno VALLAYER, President of Bertin Technologies. 'We have found in Al Masaood Group Industrial a very skilled and technical partner with which we can propose a comprehensive scope of services from preliminary design to turnkey solutions delivery including long-term maintenance services.'
Hani El Tannir, Chief Executive Officer, Al Masaood Group Industrial added, "We are delighted to partner with Bertin Technologies to advance radiological protection measures for nuclear power plants and elevate nuclear safety across the UAE's energy program. This collaboration will enable us to pool our expertise and technologies and develop turn-key solutions that bolster the UAE's commitment to safety, security, and peaceful use. Our long- term partnership with Bertin Technologies will ensure that we support the Federal Authority for Nuclear Regulation (FANR) to maintain the highest standards of safety and security in the operation of the UAE's nuclear power plants. This is particularly important as the UAE has set an ambitious target of generating up to 50 per cent of its electricity from clean energy sources by 2050, and nuclear energy is poised to play a vital role in achieving this objective."
Bertin Technologies and Al Masaood Group Industrial look forward to working together to develop innovative nuclear technologies for a safe, secure, and sustainable energy program that will benefit both the UAE and France's nuclear industry. During the signing ceremony, both representatives of Al Masaood Group Industrial and Bertin Technologies stressed the importance of knowledge sharing and technical cooperation to develop the most advanced technologies, processes, and expertise to provide customers with the best solutions possible in the two ecosystems. Hervé Maillart, Head Coordinator for the French nuclear industry, reminded guests of the successful and longstanding partnership between the two countries in the nuclear field, outlining further collaboration opportunities in staff training, engineering, and maintenance to develop Nextgen, high-performance nuclear reactors.
Indeed, the UAE has made significant strides in developing a peaceful nuclear program in the past decade. The country has been heavily investing in nuclear energy as part of diversifying its energy mix. The UAE's nuclear program stands out for its commitment to the highest international safety standards. The strategic alliance between Bertin Technologies and Al Masaood will support the safe deployment and development of the industry in the years to come.
Home
>>
Banking & Investments Section