Home
>>
Events & Exhibitions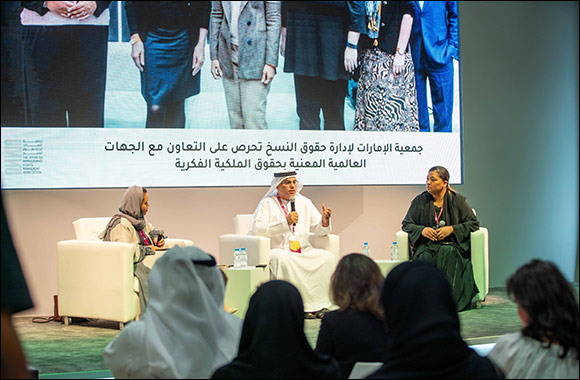 ERRA Discusses Copyright Challenges and Explores Solutions at 31st Abu Dhabi International Book Fair
Emirates Reprographic Rights Management Association organises a panel discussion titled 'Copyright protection and its impact on the creative economy in the Emirates'

Sharjah, May 27, 2022: The Emirates Reprographic Rights Management Association (ERRA) - a first-of-its-kind association in the region, organized a panel discussion titled 'Copyright protection and its impact on the creative economy in the Emirates' as part of its participation in the ongoing 31st edition of the Abu Dhabi International Book Fair.
Salha Obeaid, Treasurer, ERRA, introduced the association and its goals and moderated the discussions on how copyright protection can boost the economy with panel members Dr. Abdelrahman Al Muaini, ERRA's General Secretary, and Dr. Afra Atiq, Vice President of ERRA.
During the session, the panelists underlined ERRA's mandate to protect the copyrights of content creators and safeguard the rights of authors and publishers through appropriate laws and legislation. They emphasised emphasized that the association bolsters the position and role of the UAE in stimulating and encouraging creative industries and plays a significant role in the country's sustainable economic development, in addition to protecting the rights of both publishers and authors.

Panel members discussed solutions to overcome challenges and build a stronger foundation for the creative industryof intellectual copyrights and underlined the need for safeguarding these to help boost their output, which will, in turn, stimulate the sector and the economy.
The session also explored ways and mechanisms of raising awareness about the creative economy and highlighted the importance of protecting the rights of those operating in the sector. The panel members agreed that the task of protection falls on institutions, communities, and individuals to make copyright protection part of the culture and norm in societies.
Home
>>
Events & Exhibitions Section