Home
>>
Real Estate & Retail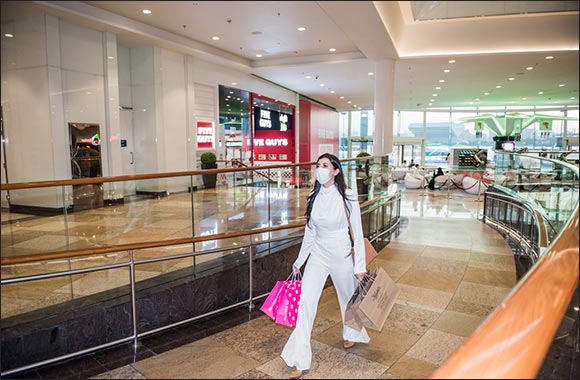 Shoppers Can Spend and Win Big With Top Promotions Over 3 Day Super Sale Weekend
Dubai, United Arab Emirates, 26 November 2020: Two of Dubai's favourite malls and one of the city's best loved home and garden retailers will welcome shoppers to discover a super selection of promotions and more as part of the 3 Day Super Sale (3DSS). Held from 26 November to 28 November, the bi-annual retail celebration is brief but full of amazing offers with price reductions by as much as 90 per cent, with big deals and promotions to be found.

Organised by Dubai Festivals and Retail Establishment (DFRE), 3DSS invites shoppers to explore super promotions at Dubai Festival City Mall, City Centre Mirdif and ACE's brand-new location.

Dubai Festival City Mall's 3DSS deals feature a super Spend & Win offer. Residents and visitors who spend AED1,000 or more over the 3DSS promotion period will receive 10 per cent cash back on a Festival City Mall Gift Card to do more of what they love – shopping!

To participate in the offer, customers must take their receipts to the mall's Customer Service Desk to be stamped in order to receive a mall gift card. Multiple receipts will be accepted but should be dated the same day as redemption. There is only one prize per customer, per day with the first 200 shoppers able to participate each day. Fun and colourful activations around the mall will encourage shoppers to take part in the super promotion and be in with a chance of winning.
The mall is also holding the Festival Rewards Promotion with AED30,000 in total to be won. Shoppers who download and register on the Festival Rewards App during 3DSS will have a chance to win a daily prize of a Festival City Mall gift card loaded with AED10,000, with one winner announced each day of 3DSS.

ACE, the UAE's leading home improvement and outdoor brand, will officially open its new store at Festival Plaza Jebel Ali on 26 November. A great addition to the city's retail offering and the 3DSS celebrations, visitors to the new 4,000sqm superstore will find a wide range of offers and special deals available from 26 to 28 November.

The first 100 customers to pay for items at the new store's checkouts will receive goodie bags filled with festive items, plus DIY and outdoor essentials, while the first 1,000 customers to spend AED300 or more will receive a year's worth of vouchers featuring savings for every month of 2021. The new ACE store will also host free and exclusive workshops featuring experts from ACE's partner brands including Jotun and Rustoleum as well as gardening and home living tips from popular UAE-based home and design influencers .

In-mall attractions will include special pop-ups featuring ACE's outdoor, festive and camping range on display throughout Festival Plaza Jebel Ali, with mall visitors invited to experience a range of top brands as well as a host of exciting deals, promotions and offers.

Taking place over 3DSS and running into the UAE National Day celebrations, City Centre Mirdif's special promotion is a must for shoppers who love to spend on big offers and great deals. Until 5 December, customers who spend AED300 or more in any store in City Centre Mirdif can enter a raffle to win AED4,900 SHARE points.

To participate, shoppers need to download the SHARE loyalty app and scan their receipts, which will be automatically uploaded. A total of 11 lucky winners will scoop AED4,900 each, with the prize draw taking place on 10 December.
Home
>>
Real Estate & Retail Section