Home
>>
Home, Furniture and Interiors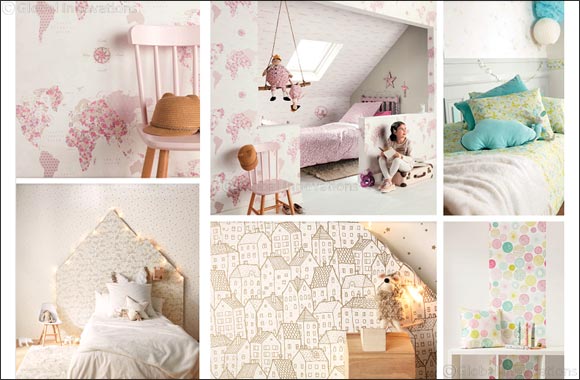 Sedar Global's Top Tips For Designing And Decorating A Kid's Space
Creative Director at leading interior label Sedar Global gives his top tips on how to get your kids back to school ready with a fun and functional home space to call their own With kids now spending more time than ever in the home, creating an inspiring space for your little one to play and grow is more important than ever. Decorating a kid's space should be a fun experience, however creating a beautiful, functional room that your child will love both now and for years to come can be hard to achieve.

Need a little advice? Famous for its bespoke made to fit services and use of materials and wallpapers from some of the finest factories across the globe Creative Director of Sedar Global, Nahel Selo give his top tips on decorating a kid's space that harnesses the beautiful qualities abundant in children - imagination, creativity and expression.

Whether you're starting from scratch or hoping to improve upon an existing space, whatever budget or space constraints you're certain to find a healthy dose of inspiration with Sedar's tips and kid focused collections. Now offering at home consultation services Sedar shoppers can also book an appointment online to arrange a skilled interior consultant to visit their homes to take measurements, provide sample fabrics as well as offer style direction.
A MULTI – FUNCTIONAL SPACE
A child's bedroom needs to serve multiple purposes – playroom, study and sanctuary, and If you don't want your child's room overrun with toys and general clutter it must be a multi-functional storage space. A top tip is use floating shelves or create more floor space with a raised bed, leaving an under space for a desk or storage. Nahel Selo Creative Director at Sedar adds "the key to any well organised bedroom is good storage. To create a space that is not overwhelmed with plastic boxes and unsightly storage containers, add an alternative design led touch to make your storage solutions attractive. Covering boxes or pull out storage drawers with one of our uniquely designed wallpapers or patterned fabrics".

STYLISH SOFT FURNISHINGS
Rugs, curtains, cushions and bed linen all provide opportunities to introduce pattern, colour and texture to your kid's space in a relatively inexpensive way. Selo comments "at Sedar our kids' wallpapers offer fabric collections that are created to complement each design. Fabric designs in both patterns and bold colourways can be custom made into matching curtains, blinds, throw bed or floor pillows for a cohesive and stylish finish to your interior. A top tip is to work in extra fabrics as a bed or cot canopy draped around the head of the bed to provide slumberous security and an element of fun for kids bedtime."

WALL ART
For a wall décor scheme with staying power pick from Sedar Global's unique collection of kid focused wallpapers and fabrics. Parents can pick from neutral styles with block colourways or subtle graphics styles that will serve as a blank canvas, leaving room to add decoration and accessories that can be changed with age. Or for a real fun finish select from Sedar's motif wallpapers introducing some playfulness into your kids' space.
Selo adds "motif papers don't have to dominate a space it's how you work in the design. To achieve a more subtle finish introduce motif papers to panels, one wall or a ceiling. Some of our most popular wall designs at the moment include our metallic stars design with a cream background for a modern and on trend look and our world map design which is educational in an artistic way".

HOW TO ACCESSORISE
If you're keeping your walls simple, bunting and wall hangings can dress up a plain backdrop and be easily removed as your child's interests evolve. Selo adds "If you want a feature that will inspire creativity and the inclination to enjoy homework from toddlerdom to teenage hood think about installing a strip of chalkboard, or daubing some chalkboard paint across part of a wall".

HANG OUT AREAS
Kids bedrooms aren't just for sleeping in, they also function as a space for quiet contemplation, for study, and for play. Selo suggests "it's a good idea to define these different spaces: make reading more fun by introducing bean bags, hanging chairs, or Sedar's throw floor pillows, encourage study and crafts with a desk, or install a mini teepee for some cosy play time."

LIGHT LAYERING
The importance of lighting should never be underestimated when decorating a kid's bedroom: fairy lights help to create a cosy ambience, spots create warmth, task lighting above or beside beds helps to encourage reading and lampshades on ceiling lights bring focus to a room. Falling asleep under fairy lights, or from the gentle glow of a friendly animal lamp, gives some much-needed reassurance and comfort to those little ones afraid of the dark.

FURNITURE WITH CHARACTER

A great tip If you are designing a space within a limited budget, is to source antique or pre-used wardrobes, storage chests or even book shelves and unusual bed frames. Creative Director at Sedar Global adds "these can be transformed into character pieces with a new coat of paint or even with elements such as shelves covered with some of Sedar's wallpapers or fabrics in matching themes and hues as walls or pillows".
Home
>>
Home, Furniture and Interiors Section