Home
>>
Fashion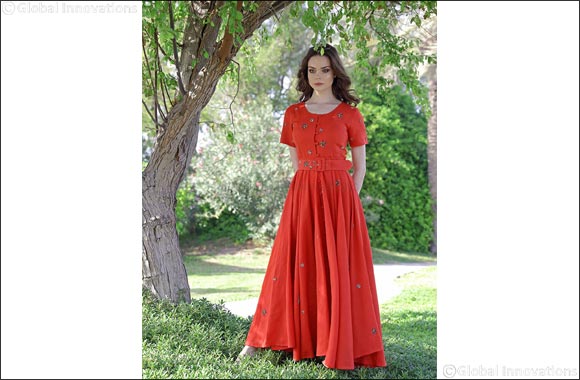 Deema Ajlani | The Eid Edit
The SS20 Collection
An Homage to African Culture, Colour and Craft

Dubai, United Arab Emirates, July 28, 2020: Summer is renowned as a season of colour confidence, an opportunity of creative freedom and expression where a bright and vivid palette is harmoniously blended into light and loose textiles to mirror a cool and calm demeanour, aptly suited to the Middle Eastern climate. The Deema Ajlani Spring Summer 2020 Collection from revered Bahrain based Saudi designer Deema Ajlani expertly brings together these illustrious elements of the season alongside a rich tapestry of culture, colour and customs from the continent of Africa. Flowing silhouettes and bold hues capture the essence of spirit from across the majestic landscapes of the African plains, while a warm and radiant assortment of colours with luxurious fabrics and intricate embellishments reflect a cornucopia of flora and fauna found within the heartland of the nation. Each piece from the collection is an acknowledgment to the rustic charms of organic fibres comprised only of natural materials, including linen and cotton, with designs and prints that encapsulate the vibrant textures and patterns of African tribes and customs.
A distinct detail is the ornate use of 'cowry' shells across all of the designs. Once used as a means of currency and an important mark of trade amongst African and Asian networks, the cowrie shell is an exquisite motif that adds a historical and almost symbolical touch to the collection. Referencing traditional African names, the collection is comprised of the Ife Dress; a pink flower print puffed sleeve maxi dress with beaded belt; a personal favourite of designer, Deema Ajlani. The wild and eye-catching Dada Dress with ruffled straps on exclusive leopard printed fabric and shellflower embroidery. The long and graceful Sade Dress; with hand-beaded shirt collar is a classically elegant summer essential while the Masika Blue Tribal Dress; a midi dress with a cuffed sleeve yellow hand beading is a bright and beautiful nod to the traditional African wax fabrics and tribal patterns. The Nala Dress, which comes in three distinctive colours, showcasing a bold indigenous print in yellow or a stunning starburst in toast and red. Each starburst is made with the signature skilful embroidery recognised with the designer and adds another touch of magic to each individual dress in either hand-beaded multicolour or gold.
The collection also boasts a range of comfortable and luxurious separates, in the form of culottes and blouses, lightweight and chic. The Nia culottes are uniquely created with starburst hand beading patterns and flower and shell embroidery which help them stand out and add a touch of glamour to an overall relaxing summer look.

As summer continues, The SS20 Collection from Deema Ajlani is a celebration of culture, colour and craft. Elements central to the very ethos of Deema Ajlani who takes us on a journey inspired by stories of the past, through skilful artistry and delicate detail to make this an inspiring collection for the season.
Home
>>
Fashion Section