Home
>>
Food Industry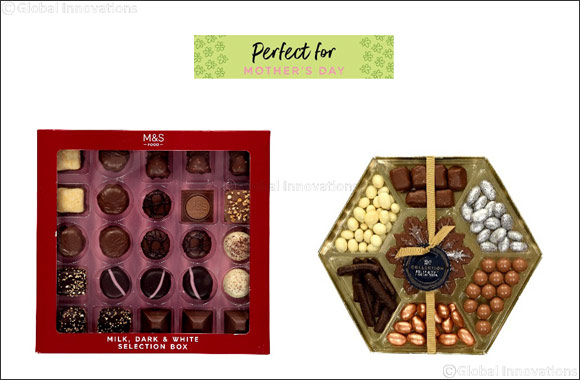 Make Her Feel Special with Indulgent Gifts for Mother's Day
The range includes mouth-watering Belgian and Swiss chocolates, as well as delicious options for the perfect Mother's Day breakfast
Dubai, United Arab Emirates, February 23, 2020: Make her smile this Mother's Day with must-have food gifts from Marks & Spencer, guaranteed to impress any mum on her special day. Known for using only the most premium ingredients and having the highest ethical and environmental standards, shoppers at Marks & Spencer can enjoy a selection of chocolates which are not only 100% Fairtrade, but made of rich cocoa, making it that extra bit special.
Perfect for mums with a sweet tooth, Marks & Spencer has a selection of top-quality chocolate boxes catering to all tastes – such as the decadent Belgian Collection or classic Milk, Dark & White Selection Box. If she's more of a truffle lover then look no further than the luxurious Swiss Chocolate Truffle Assortment, made by master chocolatiers in Switzerland.
Beyond gifting, Marks & Spencer has an extensive range of options for those looking to treat mum to breakfast on her special day. It couldn't be easier to prepare fluffy Marks & Spencer Buttermilk Pancakes topped with her favourite berries, grown on premium British farms.
Shop the Mother's Day food range at Dubai Festival City Mall, Marina Walk, Ibn Battuta, The Springs Souk, Mall of the Emirates and the newly opened Festival Plaza today.
This is not just any food; this is Marks & Spencer food.
Indulgent Gifts for Mother's Day
Marks & Spencer
Belgian Milk, Dark & White Flaked Truffles
AED 49.00, 200g
Luxury Belgian chocolate truffles covered in milk, dark and white chocolate flakes
Marks & Spencer
Belgian Flaked Truffles
AED 49.00, 200g
Indulgent Belgian milk chocolate truffles covered in milk chocolate flakes
Marks & Spencer
Belgian Collection
AED 85.00, 315g
Assorted Belgian chocolates with dark, milk and white chocolate
Marks & Spencer
Belgian Favourites
AED 130.00, 575g
An assortment of Belgian chocolates, cocoa dusted and flaked truffles
Marks & Spencer
Swiss Chocolate Assortment
AED 79.00, 285g
An indulgent selection of milk, dark and white chocolate pralines
Marks & Spencer
Swiss Chocolate Truffle Assortment AED 79.00, 665g
Milk and dark chocolates with a smooth truffle centre Marks & Spencer
Milk, Dark & White Selection Box AED 39.00, 308g
A timeless selection of family favourites, with fruit, caramel and nut centres
Marks & Spencer
Swiss Chocolate Neapolitans
AED 35.00, 250g
Mini bars made with Swiss milk chocolate, dark chocolate and milk chocolate with hazelnuts
Marks & Spencer
British Pudding Selection Box
AED 39.00, 308g
Marks & Spencer
Fruit & Nut Collection
AED 95.00
Marks & Spencer
Gastronomic Collection
AED 39.00, 100g
Marks & Spencer
Mint Selection Box
AED 39.00, 285g Marks & Spencer
Dulce De Leche Truffles
AED 49.00, 152g
The Perfect Breakfast for Mother's Day
Marks & Spencer
4 Buttermilk Pancakes
AED 21.00, 160g
Light fluffy pancakes enriched with buttermilk, delicious topped with your favourite Marks & Spencer sauce
Marks & Spencer
Blueberries
AED 42.00, 150g
Fresh blueberries from Marks & Spencer select farms
Home
>>
Food Industry Section